October 31st, 2008
The former curator of Harvard University's Collection of Historical Scientific Instruments, William Andrewes, has  become a "dialist," or maker of sundials. His idea is to base the dial on an unusual type of map, and to center the map on the very spot where the dial will stand. The map's meridians of longitude serve as the sundial's hour lines, creating a union of time and space for that particular location—something no dialist or clockmaker had ever before achieved.
An inspiration for Andrewes' Longitude Dial was a 1610 map by Nuremberg mathematician Franz Ritter (below, thanks Smithsonian website). It placed his city at the center, so that the meridians of longitude emanating from the North Pole could also serve as the hour lines of a Nuremberg sundial.
Article on Andrewes by Dana Sobel at Smithsonian.com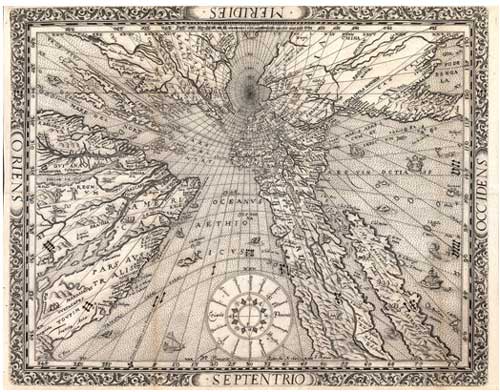 Leave a comment
You must be logged in to post a comment.